Gordon brown and obama special relationship bank
Gordon Brown goes to Washington, hoping for Barack Obama bounce | Politics | The Guardian
President Obama and Prime Minister Gordon Brown of Britain pledged to international banks' transactions wherever they happen in the world, is any lessening of that special relationship is misguided," Mr. Obama said. Video: Reforming UK banking. Many British people Brown and Obama both insist the "special relationship" is "rock solid." "The United States. They see this trip as the moment the special relationship - or "special partnership" as it is now called - is turned by Brown and Obama from the.
The special relationship is 'finished' according to a former Clinton adviser
Most regard Brown as their leader until the general election, despite the current jockeying by cabinet ministers for position. For this reason some talk of it in the kind of grandiose language Brown would approve of. They see this trip as the moment the special relationship - or "special partnership" as it is now called - is turned by Brown and Obama from the Bush-Blair one of foreign policy and defence into a special relationship for the economy - "a special relationship for ordinary people" one Labour MP said.
Special relationship as strong as ever, Obama tells Brown
Gordon Brown to ask Barack Obama to renew the 'special relationship'
Barack Obama reaffirms belief in 'special relationship' with Britain
Whether or not "ordinary people" even register Brown's visit may depend on his speech to Congress. A minister who has been critical of Brown before coming back on side over his handling of the economy said it represented the first chance in a while for Brown to speak and be heard. Candid words to Congress could be the beginning of a reversal in Brown's fortunes. This would be the chance to say it.
It knows it needs to get not just Obama but sceptical US Republicans on board the agenda for the G20 meeting. What's needed, Brown wrote at the weekend, is a global new deal - signed at the G20 in April - "whose impact can stretch from the villages of Africa to reforming the financial institutions of London and New York".
David Cameron, Barack Obama and the Special Relationship - BBC News
America shows signs of inserting a "buy American" clause into its economic recovery package but Brown will want to get assurances from Obama before the G20 that he too will sign up to a pledge against protectionism in the eventual communique.
The prime minister wants to "magnify" the two countries' bail-outs of their respective economies by working more closely together. Obama indicated that he agreed with Brown on the need to update the world's financial institutions and regulatory framework and to avoid protectionism.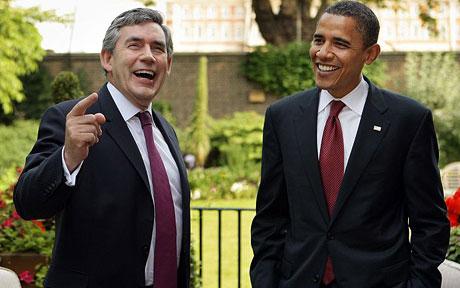 Obama said he wanted the April summit to look at how the G20 countries can "in a coordinated fashion, stimulate their economies" and ensure that there is a common front in making progress on banking. The president cautioned that there would be no swift solution to the global economic crisis. But he held out the hope that coordinated action could get the world back on the path to prosperity. There were a lot of bad decisions that were made.
We are cleaning up that mess.
Mr Brown goes to Washington, hoping for Obama bounce
But this afternoon Brown rejected the suggestion that he should apologise for what went wrong. Asked if he needed to say sorry, the prime minister said: We have to learn from what has happened over the last 10 years. Every country is learning.
Brown in Washington: US hails special relationship with UK
Every country is taking action. Although the two men did not seem to show the same sort of warmth for each other that Tony Blair and George Bush did when their relationship was at its strongest, Obama did make a reference to Brown's "wonderful family" and Brown joked about not being able to beat the president at basketball, but perhaps being better than him at tennis. Downing Street had been expecting a full press conference, but the White House scaled down its plans, blaming the heavy snowfalls that have hit Washington for its decision not to go ahead with a news conference in the Rose Garden.
The change of plan took some of the shine off Brown's achievement in becoming the first European leader to visit Obama since his inauguration in January.